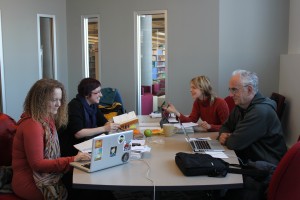 Today's the day! Last week the planning team met and hashed out a few details and ideas… and today Caring For All Creation begins. Those of you meeting in person in Vancouver and Victoria will soon be acquainted with Carmelle and Dittmar (on the right). Leslie (on left) and I, Tif (beside Les) will be cheering you on from sunny, cold Alberta.
You'll notice a post regarding resources for the gatherings. Generally these will be posted after each week begins- following your exploration of the topic with the large group, and to support your work together in small groups. Feel free to comment and post about those resources and to share other articles, clips, etc. that you know of.
So let me be the next person to say: welcome! I'm glad you're here, and I so look forward to learning with you this spring!