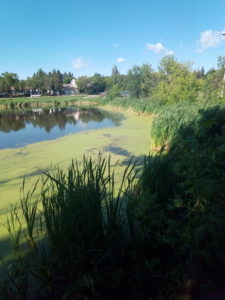 One of the 2015 Spirit of the Land interns focused his efforts this summer in researching the possibility of using floating wetlands to reduce algae bloom in bodies of water around Camrose, particularly Mirror Lake. This sustainable technology has been used successfully in warmer climates, but floating wetlands are also being introduced in Canada.
A floating wetland is defined as "constructed of durable, non-toxic post-consumer plastics" to use plants to absorb an excess of nutrients. On the surface of the wetland are a multitude of different plants that work to absorb the excess nutrients that normally feed algae bloom.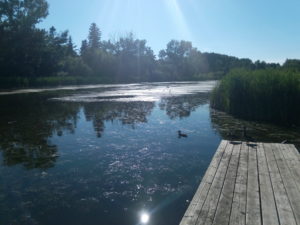 Installing a floating wetland could also decrease sediment inflow and increase beautification. While preliminary research has been completed, the project would require further discussions with experts in the field, Camrose city managers and possibly the formation of a committee to support the project. Further research is required to discern what kind of floating wetland would work best for our local Mirror Lake ecosystem.
An exciting possibility arising from such efforts is the development of a school programming based on the successful River Watch groups in Edmonton, Calgary and other Alberta cities (www.riverwatch.ab.ca).
You can read more about this project here: mirror-lake-water-rehabilitation-report.