"Beauty Everyday: Stories from Life as it Happens"
Written by Battle River Writers, and illustrated by regional visual artists, photographers, poets, and musicians, the anthology is:
– an outcome of Culture, Creativity & Place Conference I-2012 at Red Deer Lake,
– based on First People, Settler People, and New People in the Battle River Region.
– inspired by landscape, communities, and the arts.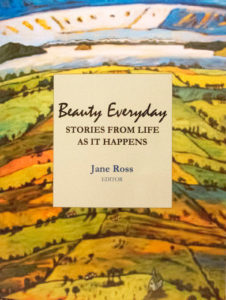 In September 2016, four of the book's authors were invited to present the book at various venues in Australia: e.g., Aboriginal Cooperatives and Land Sites, Deakin University, Centre for Ecological Integration, Hopkins River Water Ceremony, Municipal County and City Councils, Art Galleries, Health Centres, public readings, and more. Further encouragement has come from a Maori group in New Zealand to have us come there to present the book and the First People, Settler People, New People model we've used for community engagement.
There will be a book signing table at the upcoming "Reconciling Land, Life & Livelihood" Conference.